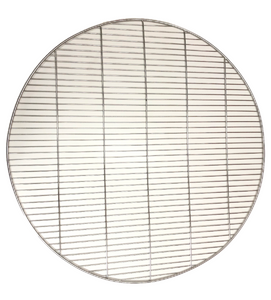 The Fire Pit Stainless Steel Cooking Grill grid has been specially designed for cooking with fire pits. Fire pits can be used for cooking either over the open flames or charcoal, when fitted with the grid. The fire pit grill grid has a large cooking surface with plenty of room to cook up a feast.
Grade 304 stainless steel is used for these cooking grills. It is the most common grade to be used for cooking equipment due to it being a highly heat-resistant grade, and offering good corrosion resistance.
We recommend the 90 cm grill grid to be suitable for fire pits 72, 75, 82 and 100 cm in diameter. The 110 cm grill grid is suitable for fire pits 100 and 120 cm in diameter.

Please make sure you always use grill gloves, as the grid does become very hot during use.
Specifications:
Material : Stainless Steel Grade 304 - Edge is 8mm in thickness
Dimensions:
Width : 90 cm Diameter 
Weight :  5kg

Width : 110 cm Diameter 
Weight : 6.5kg
Shipping
The Fire Pit Stainless Steel Cooking Grill is delivered Australia wide for a Flat Rate of: $49.95
For more information on shipping, please visit our Shipping and Returns page.
Guarantee
This product comes with a standard 12 month warranty. Please note: Items that are damaged as a result of wear and tear are not considered to be faulty.

For more info on product guarantee, please visit our Product Guarantee page.
Hot Fire Pits Australia proudly offers 100% Price Match Guarantee on all our products.
For more info on our price match guarantee, please visit our Price Match Guarantee page.


---